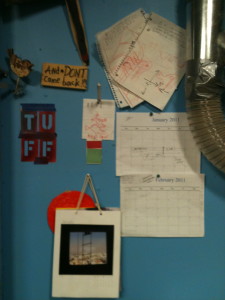 I had my morning tea on the back porch today. I sat, not yet awake, looking at nothing, really. My first conscious thoughts were about feeling tired, which is how I assume waking up feels.  Then the weather, which is how I assume my day will feel.  As I slowly came to, I noticed the length of the grass in the yard, the tired declining fence, the tangled woods beyond, and the ugly electrical wires on a pole leading back to the house. I was subtly judging, even correcting, things.  I was automatically comparing my experience to imaginary circumstances before I had even become conscious. This commentary comprised of almost thoughts, glimpses and suppositions lay barely audible in the background of my experience.
I think we're all a bit like this. We wake up most days assuming a blanket of unexamined thoughts that stem from dysfunctional character studies in the novellas of mind. Today's complaints must have come from an author who's protagonist is a loser, incapable of correct choices, living in the wrong place, at the wrong time. He employs great acumen to prove the inadequacy of his experience.  His intellect is so sharp it cuts at the core of his confidence. His brain is like a hot sauce so caustic it dissolves the food its meant to enhance. He is left waking up into a litany of complaint.
I had another sip of the tea.
And then, I remembered to pay attention to now.  Remembering is the fruit of mindfulness training. We can be grounded in the reality of our situation by simply remembering. I am not my thinking. I am especially not my thinking before I've had my tea. I remembered this is what mind does. Its a habit, and only that. Its a way of preparing for the day by complaining about it in advance. But, in remembering the game I play in these precious preconscious moments, came the magic of release. In opening to the moment, I regained control over my life experience.
That's when I saw the baby deer hidden in the dense overgrowth. It was like being allowed to peer into an intimate and gentle part of my world I had not seen before. I was allowed to see something precious and wonderful right from my own porch. I relaxed further. Within a few moments I began to make out the family above the baby. An ear here. A leg there. Pieces of a puzzle of the amazingness of ordinary life. I realized the forest behind my house was alive.   I remembered that life is happening now.
I had another sip of tea and noticed the tea was quite good. This tea had been good for some time. My life, it seemed, had been happening all along.
Mindfulness training allows us to become available to our world. We are open to noticing the world, and being woken up by it. In order to readily remember that life is happening NOW, we can train in becoming aware of some aspect of the four foundations of mindful experience in the body, the heart, the mind, or life.  The power of meditation lies in remembering.  Hence, meditation training is training the mind to remember to come back and open to our present experience.
An interesting aspect of meditation in action is that as we become aware, we self-adjust. Awareness is the true depiction of events, as opposed to a projected idea of what we want those events to be. It is devoid of judgement. When we become aware of imbalance or misalignment, we simply – automatically – adjust.  We have been trained to react to worldly occurrences automatically. If a car enters the road in front of us, we automatically adjust. We don't berate ourselves. We simply turn the wheel. We have been trained to be mindful of driving and aware of the road around us, so it is natural. When mind meets life, life becomes workable.
With mindfulness practice, we can also become mindful of somatic and psychological experience. When we become aware of tension in our body, the body will automatically relax into alignment. When we become aware of feeling ill at ease, if we can relax into the anxiety, the tension will simply release. When the mind recognizes deeper layers of our psychology, experience that is often unconscious to us becomes seen and the energy relaxes. When mind meets body, body sits up straight. When mind meets emotions, the energy subsides and the heart relaxes.  But, a particularly magical encounter is when mind recognizes mind.
When we encounter the mind, and see its behavior, we automatically relax away from self-obsession into clear space. Mind meeting mind is mind waking up.  If we can train ourselves to slow down enough to see the steps, we can see the choice points,  and learn to open into nowness. This is learning to wake up. And, we can do it now. We can do it right here. We need not travel cross country into retreat, lose weight, become vegan or complete so many mantras. We need only remember. If we employ a gentle and persistent approach to waking up, we can actually rest in the ground of appreciation.
At least until the next wave of doubt and discouragement ensues. But then, seeing that, we can remember to come back and open. Notice, remember, come back and open.  Eventually, we will pass through layers of doubt like veils of experience and rest for a moment in the non-thinking, wordless, but extraordinarily awake state of our life, already in progress.