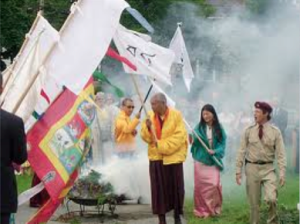 Each morning we seem to arise to a pre-scripted litany of complaint. But there is a moment before the deluge, before the bones creak and the muscles scream, before the flood of responsibility strikes like lead clouds pressing down upon us. There is a moment before we drown our fearful footsteps into a cold shower and hot coffee. There is a nano second, a moment, a gap of openness. And through that slight aperture a vast open space is glimpsed and forgotten.
If we had the mental clarity in this moment, we might see our true nature. Open, reliable, awake. In that moment of purity, we are as we are, a warrior without doubt or confusion. We are as we have always been, but have forgotten to be. Throughout our day we have these opportunities to wake up. And, we do. Frustratingly the mind of wakefulness passes by us again and again. Sometimes unnoticed. Sometimes seen, but not believed. And then, in an instant, we retreat. We forget our true nature and choose (albeit blindly) to turn back to a hackneyed world of habit, abuse and recrimination.
But, what if we choose not to forget? What if we choose to wake in the face of a turning earth and roaring like a lion inside, meet the day with a humble gentleness that defies the gravity of our expectations? What if we chose to wake up tomorrow morning, and instead of sleepwalking thru our day, vow to remain awake, alive and present in our life? What if we choose to wake the warrior within?
This might sound like carpe diem. But what is that? Seize the fish?
No, its not about "killing it", "bringing it", "Rocking it", or any of that rah-rah sis-boom kind of coaching that work for a few days before we fall back to the solace of indolence. This is about a real life change. And that change is as near as the next moment. In fact, it is available in each moment. Its about opening up to life, seeing through the cracks in our confusion and beginning to take ownership of our lives one breath at a time. Its about returning to awake and it is what we call Warriorship.  It is the bravery to be gentle, the strength to remain open and the honesty to simply be as we are.
Ok. I'll admit this isn't fast and furious. In fact, its more slow and peaceful. However, while the former admittedly makes a better fiction, the latter makes a richer and more rewarding life. The Warrior's view is sustainable, as it sees beyond the aggression of blind appropriation to the panoramic awareness of awake appreciation. But, we must be willing to look at our world BEFORE we choose complaint. We must be willing to chose the uncomfortable space of awake. In order to do that we must be strong. And in order to be strong, we must learn to love ourselves.
Warriorship is not building walls, defining affiliations, or designating easy enemies to rally our ignorance. It is not grabbing the first excuse to accuse others.  It is taking responsibility for being awake and accepting the mantle of one whose life is dedicated to helping the world.  Sakyong Mipham says, "the warrior is kind to themselves and merciful to others." His point is that we actually do treat others as we treat ourselves. The Golden Rule, it turns out, is quite true and it is actually as much a curse as a blessing. When we are embroiled in inner conflict we are training the mind to see the world as hostile. When we fight ourselves we cannot help but turn friends into enemies and allies into adversaries. On the other hand, when we rise to the occasion of our moment and respect ourselves by bringing awareness to that moment, we come to see the world as amenable, compliant and ultimately workable. We are able to treat others with the same regard and self-respect as we treat ourselves. With that cooperative, mutually supportive relationship to our world we can be a benefit to ourselves and others.
Being hard on ourselves might seem like a method for self improvement, but it actually erodes self-confidence, ultimately making us weaker. Being kind to ourselves is learning to support ourselves. This makes us stronger. In time, our self-identification shifts from a litany of complaint to the strength of compliance. We learn to become our own support.  And, in so doing we become strong enough to help others.
The development of Warriorship is a return to our natural state. Humans were meant to stand erect and see around them. We are designed to reign over the earth, and turn our world into a place of beauty and nourishment for our family and clan. Compassion, caring and kindness are natural human characteristics. But, our capacity for them is easily eroded when we fail to care for ourselves. When we are under great duress, we learn to ignore our natural confidence and begin to doubt ourselves and attack our world. We choose to rape the earth and grab all that we can for ourselves. This is very shortsighted, and frankly in no ones best interest. Everyone knows this. But, what are we waiting for? Who will be strong enough to stand up to the tide of cruelty that we accept as our Human legacy?
Cruelty is not our legacy. it is our choice. Blind, though it may be, we have been making that choice for our lives and it may now be time to wake up to the choice points, and choose an alternative.
The world is changing rapidly. It has grown smaller and there are more humans living on a decreasing amount of arable land. We are reaching a singularity of purpose and survival. Perhaps it is time to see ALL of humanity as our own clan. In order for humanity to survive we may have to turn from grasping at survival and learn instead to thrive. And what denotes thriving as succinctly as generosity and compassion. Perhaps it is time for us to choose cooperation rather than competition. Caring rather than condemnation. Perhaps it is time for us to stand upright, survey our world and begin to see all of the earth as our mantle, charge and responsibility.  This is not pie in the sky. This is bread on the table.
But, how will this happen? Will the world figure it out? Will the ancient aliens come to 4settle our old scores? Or, will we each begin to realize that living a life of ignorance and greed is not living at all. Will each of us, or one of us, or any of us choose to turn from this reptilian stubbornness and stand for themselves? This is Warriorship. The willingness to do what needs to be done without without help. And, this will take great strength. And great strength needs cooperation with ourselves. The warrior has far to go, but they must begin with themselves. And, they must begin alone.
This covenant of daring does not need a movement. The Warrior trusts themselves and acts out of a natural care and affection for their world. The Warrior does not need to follow the tide. But, if the warrior is to protect the world, the warrior must first stand for themselves. This takes careful, determined and dedicated training.
Chogyam Trungpa has said that everyone should have an art, a martial art and a meditation practice. In this way, the Warrior is training their body, spirit and mind. A martial art is a way of developing true confidence devoid of dependence on external conditions.  Art liberates the spirit.  And, self-regard and respect are the natural outcomes of a regular meditation practice. Thus, we have the basis for great strength in our life.
The Warrior's Body is firm.  The warrior should have a martial art. Not just random exercise, but a progressive development of the body, to give us a sense of strength and purpose. Strength and purpose allow the reptile mind to relax and the impulse associated with fear and defensiveness can abate, as the bodily confidence develops.
Sitting up straight in meditation changes brain chemistry, increasing testosterone, and decreasing cortisol. As well, the awake posture calms the deepest part of the mind. It relaxes the animal impulse to attack, retreat or burrow and allows a general sense of calming the reactive mind, because its apparent someone is now watching the ship. Thus, sitting up straight is the Warrior's posture and the Warrior's sword. Without this we are so easily swayed.
The Warrior's heart is open.  Although strength males us safe, vulnerability, caring and concern make us human. What is the point of life, if we are not alive. The Warrior's Art should be something that has limited commercial value. It is creative expression, so missing from our lives today. Drawing, dancing, music, automatic writing, anything that allows the soul to move and to play. Without this we are brittle and so easily broken.
The warrior's mind is awake. Clarity is the warrior's sword. Having seen the morass of indecision and doubt, the the warrior develops the strength of inner resolve. The warrior relies on the view and constantly hones the blade of valid perception in order to see clearly beyond the constraints of ego and self interest that only erode confidence. Thus the warrior's mind is not searching for answers, enemies or blame. The Warrior's mind sees, feels and knows. Just so. Without this all the strength in the world will only lead to its own self destruction.
Unconditioned confidence. The warrior develops what Sakyong Mipham calls unconditioned confidence. This is an indomitable sense of well-being and of being well, that stems from a familiarity with oneself developed in meditation. It is a confidence rooted in our basic goodness. This confidence is not dependent upon anything outside of itself, hence it is indestructible.  It is a confidence that does not fall into complaint. It is a confidence that buoys awareness and allows us to have the larger view, which is our destiny as humans.
In this manner, Warrior learns to love themselves and care for their world.